Dassault Mirage V BR Belgian Aiur Force 1992

PJ Production 1/72

The boxart
The Kit

This will be my third build of a Mirage from the same manufacturer. Though this is not the best yet, as PJ has since issued a revised moulding of the same plane, this one remains a very good kit. Recessed panel lines are a bit too deep, and that's the only weakness of this kit. It allow for two versions of this single seater jet, either the fighter bomber version or the photo recce version. This time I've decided to produce the recce one.
The build

The initial steps go very fast. I painted the interior of the fuselage halves in black, inserted the cockpit also painted black. Dashboard can be inserted later on, so I kept this one apart. Fuselage is assembled, spine added on top, careful joining is recommended. Then come the wings.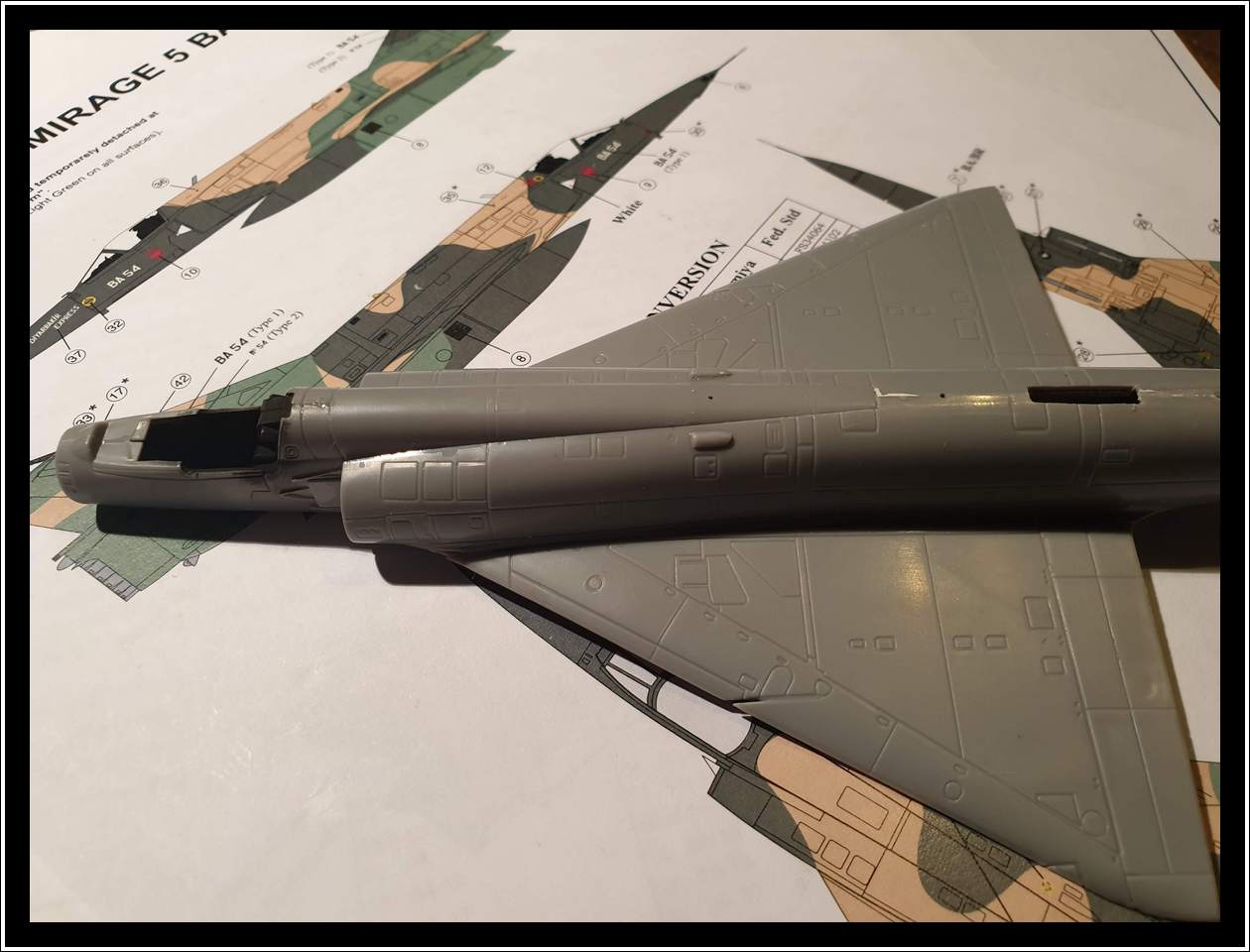 The base of the tail has to be removed to make room for the newer tail section fitted post '80 on the whole single seater fleet.

Some sections of styrene are required to adapt the hole for the new resin tail tenon.

Some minor work is needed on the bottom to clear the joints. The nose gear bay is also slightly filled with mastic.

The transparent resin nose section with the cameras is then fitted in place. It is slightly smaller in diameter than the nose cone of the aircraft. Some mastinc and sanding is also needed here.

The tail section comes next. A small amount of mastic fill a small gap at the base of the fin. Camera windows are masked off.
Flares added

The paint job

Start of the painting phase. First coat of black as a pre-shading, then the sand, a mix of Gunze FS30219 with a lighter tone.

Camo progress, all three colors are on, top and bottom. The gear bays also receive a shade of aluminium.
Decalling
Once the paint is completed, the aircraft received a coat of Klir, then the decals were applied. The landing gear was also prepared and the aircraft put on its wheels.

Les finitions
Le modèle est mis sur ses roues, les ailerons sont mis en place de même que les porte de train et les bidons, les derniers détails sont ajoutés.